Want to support the uptake of circularity in fashion? Start with a design hackathon
Be the one to drive change towards circular and sustainable fashion in your home base.
Fashion for Change was brought to life to encourage and guide fashion designers and SMEs to build a scalable, but sustainable business model around their services and products.
For this purpose, a special designathon methodology was created for collecting ideas relevant to the industry, gathering people motivated to bring change, and giving guidance in taking necessary action.
We are now ready to share some guidelines so that you could run a similar event at your preferred location.
Start with the 'Why?'
Any (ad)venture should start with a calling. What is the reason behind organizing the event? Take that as the starting point, which helps to clarify the scope and concept of the event, which considers the location and the people that can be expected to join.
Ask these questions to make sure that you've clarified the purpose:
What is lacking in your community, area, or region? What kind of change do locals need? 

Are there any outstanding opportunities, potential or strengths presented in the area or region that are currently not harvested well enough?

What will happen as a part of the event? What will be initiated or achieved at the event? 

What will be the result of the event? What will determine its success?

Why is it important to have the event, and for whom exactly?

Who can, and should, take part for the event to be successful? How can you reach those people?

Are there any limitations set to the participants as to what kind of ideas do not fall in the scope of this venture?

If you are unsure of the answers, reach out to the more knowledgeable community members. Turn to people that represent all parts of the related population. Involve these people as team members or volunteers to ensure taking an inclusive approach.
Once the co-created vision of the event is clear, it's time to start with the practicalities.
The Devil is in the pre-tails 
Before jumping into the actual event, some warm-up activities and structures need to be arranged. This includes the setup of useful communication channels, choosing attractive target messages, facilitating smart recruitment, and building solid connections with all participants – from the organizing team members to the industry representatives interested in challenging the designers' ideas.
The list of activities to perform prior to the event include:
Choose an appropriate platform and method for signups.

We used F6S, which gives participants the opportunity to reuse their previously created data and/or apply for other events with the same profile they use for this event.

Decide on the number of people or ideas you want to gather.

The number of people involved will guide your staffing and location-hunting decisions. The sweet spot for such events is usually 100-150 people. For this amount of participants, approx. 15-30 ideas are generated, however, you can expect less pitches as some teams merge and others might not deliver by the time of the final pitch. We aimed to gather 100 ideas of which 35 were selected for the event, and ended up

welcoming around 150 event participants at the 48-hour design hackathon, online and offline.

Choose a location that can comfortably accommodate the expected number of people.

You will need a classroom with a board for each team, a large room with screens for joint sessions (such as inspiring keynotes or information sessions), and a separate eating area that can accommodate plenty of tables for catering, for example.

An additional networking or chill-out area can also be a good thing. Ideally, the location would be easy-to-access so that people could get around.

Prepare to be the matchmaker.

A one-man-band is not really a band, even if they do show up to pull off a show by themselves. Teamwork is crucial. Especially in building innovative solutions that require both technical skills as well as creativity and the ability to keep up the spirits. It is necessary to think about suitable methods for matching participants and mentors in case they do not find each other organically. 

Recruit people that correspond to the needs and expectations of the event.

Each team should have access to several mentors that specialize in business development, sustainability, circularity, IT and design, and pitching, but also someone that helps th

em find the bathroom or a nice park nearby.

Don't forget that the organizing team, including mentors and volunteers, should also feel like they have enough support, time (and experience). This leads to the last point of the suggested pre-tails, which is to …. 

Brief and introduce ALL participants and their responsibilities BEFORE the event.

Create shared communication channels where guidelines, contacts, FAQ and other relevant information can be stored, shared and accessed at all times. For low-budget events, you can drop the idea of having a dedicated website with an AI-assisted chat function, and use Slack + Google Drive instead.

Oh, and don't forget the prize. Nor the application assessment details.

See more on that below.

This is certainly not an exhaustive list. There are other aspects to consider when preparing for the event, which we will not list here. Instead, we encourage you to play through the first version of your event with the organizing team in whatever format helps you to identify any additional actions you should take prior to the actual event.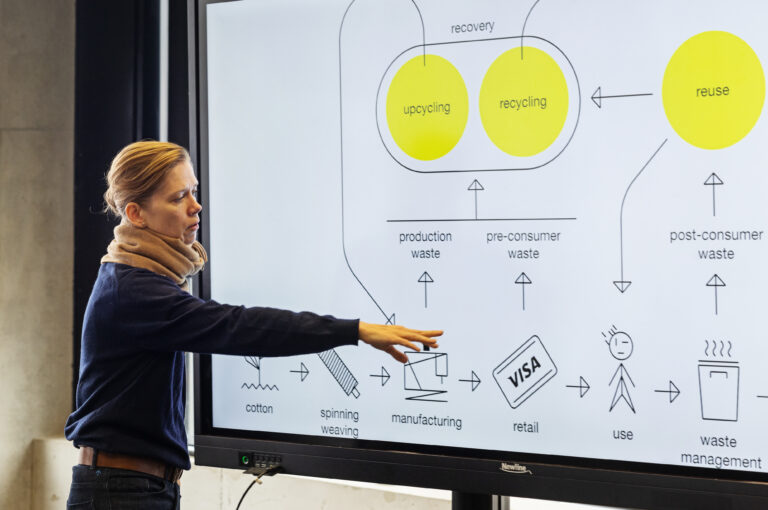 The announcement

Once all pre-arrangements have been prepared, it's time to invite the players – people who want to create, contribute, develop, and deliver solutions that enable sustainability and circularity in the fashion industry. 
To start with, go back to the questions asked during defining the purpose for the event. Who were you thinking of when deciding it's necessary to arrange a design hackathon? How, and through whom, can you reach them? 
Getting the right message across  – whether in digital spaces or face-to-face –  
cannot be underestimated.
Prepare a straight-to-the-point, and yet emotionally engaging copy for introducing the event before reaching out to the groups, mailing lists, and networks that can spread your message. Make sure to include excellent communicators in your team for this. If you're missing the skill in your network, try some international marketplace for freelancers like Fiverr, Upwork, or hire a local professional. 

While the communication of the Open Call is extremely important, the content of the call is even more crucial to make sure you find the right people. The participation requirements and the assessment criteria should already be laid out to make sure all parties understand the expectations – no one wants to give their precious time on pursuing something that turns out to be not available or useful to them.
The Open Call for Fashion for Change included a clear timeline for the application process, the principles of matchmaking, eligibility criteria, the evaluation process, cost reimbursement principles, obligations and event-related IP matters. To make all matters clear to interested parties, an open call webinar with a live Q&A session was held.
Find the open call announcement that we used for the Fashion for Change project HERE.
Suggested agenda
DAY 0 /  Opening and discovery
The Fashion for Change design hackathon started with a pre-designathon evening that consisted of an opening session and introduction, team-building and a hands-on exercise for defining the problems and challenges addressed. This part should give the teams and organisers the opportunity to get better acquainted.
DAY 1 /  Ideation and development
The first day of the actual 2-day designathon sprint started with inspiring keynote speeches on emerging sustainability trends, innovations in the fashion industry, sustainable fashion communication, the impact of the fashion industry as a whole, discovering and understanding the client, and the importance of partnerships. Select suitable topics according to the participants' experience and needs – as guided by their applications.
The second part of the first day is all about development. The teams will be working on advancing and adapting their idea according to the mentors' feedback. A joint workshop for all teams can be held to allow the teams to also get a grasp of what others are working on. The workshop could be on sustainable business models, customer discovery journey, business idea development, and so on – again, depending on the participants' needs. 
The first day ends with a progress check meeting with mentors, followed by a networking event. Make sure to provide smooth transitions between the work mode and chill time to keep up the good energy throughout the day.
DAY 2 / Demonstration and execution
The second day should start with an energizer that sets the tone and gets people back on track even if they're tired from the first day. Don't forget to give an overview of the agenda for the day. The first keynote should be invigorating, e.g. on communication of purpose and impact, investor engagement, or the creation of powerful pitches. As it's best to engage participants in an active manner, consider doing the keynote session in workshop format. This will prepare teams for their individual mentoring sessions that follow.
That afternoon should be spent on pitching – making the preparations and delivering the best possible presentation to the jury. After the announcement of winners, some closing remarks need to be made that clarify next steps for the participants.
The second day should end with a closing party to make sure people do not leave without the possibility to wind down. An informal wrap-up, some fun trivia games, good music and food will do the trick.
Find an example agenda based on the Fashion for Change Design Sprint hackathon HERE.
Jury work
The Fashion For Change jury pool included 21 experts from different geographical locations (Estonia, Lithuania, UK, Spain, Poland, Germany) who had different sets of skills and expertise in marketing, business development, circularity, product development, impact creation, and investments to name just a few.
In order to assess all 35 teams on equal terms and as transparently as possible, participants were divided into 5 streams, depending on their project specifics: 
Digital products'

streams for teams who were developing digital solutions or marketplaces, usually working with B2B segment; 

Brands'

streams for teams who were developing or designing physical products, usually introducing new fashion items into the market; 

Materials'

stream for teams who were working with material innovation, usually introducing the materials made from alternative sources.

The pitches of each stream were evaluated by 4-5 jury members, including one member from Fashion for Change project consortium, at least one expert from fashion and/or circularity, one expert from business development and one expert from investments. Such diversity helped in assessing the teams' and project's potential from various angles.
Read more about the results of the evaluation in our previous "Accelerator Flashback" blog post HERE and the learnings of organizing the Fashion for Change Sprint Design hackathon HERE.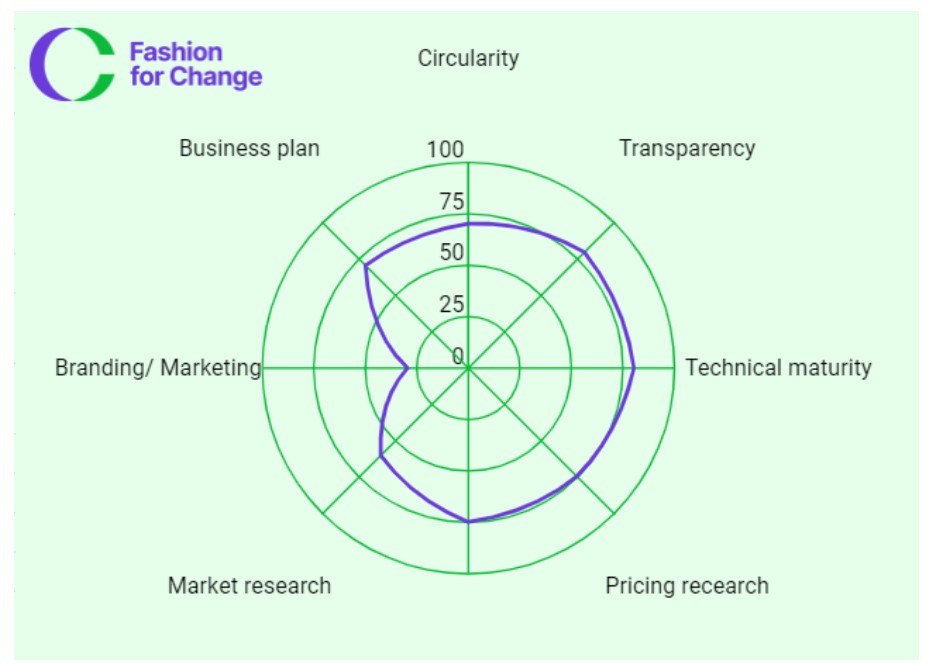 The after-event effects 
While the event itself has ended, the work started at the two-day design hackathon will continue in the teams that participated, so it's a good idea to regularly follow up, provide additional references that help the teams to keep moving (forward!) and showcase how certain tools can be of help. 
One good example is the Fashion for Change circularity self-assessment tool, which helps to assess companies' compliance with circular economy principles, audit their business and technical readiness, and find out which elements need to be improved to turn one's business model from linear to circular.
The self-assessment tool is available for logged in users on the Fashion For Change Knowledge Hub HERE. 
Similar toolkits and other free-of-charge reference materials can be found from the Fashion for Change virtual Knowledge Hub, which presents more than 150 learning and support resources, including training and educational programmes on sustainable fashion, relevant accelerators and incubators, best practice cases, eco-labels, events and conferences, reports and researches, products and much more. 
Sharing is caring
We have made all the necessary tools and contacts available on the Fashion for Change website at www.fashionforchange.eu. Feel free to have some fun there, and share with your colleagues and others who care about building a more sustainable future by encouraging, supporting and growing the circular fashion community.
Remember to take care of yourself, your planet, and your garments!