Fashion For Change contributes to conservation of endangered species by supporting innovative material creation
Let's reflects on the harmful effect that fast fashion can have on wildlife. BBC earth listed 5 fashion materials that consumers often do not realize are harmful to wildlife.
Fashion For Change is  excited to spread awareness about preserving Earth's endangered flora and fauna as well as  introduce consumers to  innovative alternatives to harmful fashion materials.

Fashion For change Accelerating sustainable fashion
Fashion For Change is an acceleration programme and virtual Knowledge Hub for sustainable and circular fashion enterprises. We seek innovative solutions and help them to scale to introduce a real change to the fashion industry. More information about the accelerator is available on Fashion For Change website.
In the Fashion For Change community hundreds of sustainable and circular fashion initiatives can be found.  Amongst them are multiple innovative material providers, who are contributing to the fashion industry to become more ethical and environmentally friendly.
Kombucha couture – true vegan's bags and purses
SCOBY- compo is a new material which utilizes the waste bacterial cellulose generated by local kombucha drink producers. Through rigorous and meticulous experimentation and the use of natural oils, waxes and organic compounds, the material I have developed is water-resistant, flexible and strong. The exciting collection of bags and purses is presented here.
Pineapple textile supports local communities
Piñatex is an innovative natural textile made from waste pineapple leaf fibre.
The leaves are the byproduct of existing agriculture, and their use creates an additional income stream for farming communities. Piñatex is a natural, sustainably-sourced, cruelty free material.
Fungi leather available in 2022
Mylo is a sustainable alternative to leather that will become available to the world through our consortium partners starting in 2022. It is created by engineering mycelium into a material that is everything you love about leather without everything you don't. Mylo is certified bio-based, meaning it's made from predominantly renewable ingredients that can be found in nature. Soft, supple, and less harmful to the planet.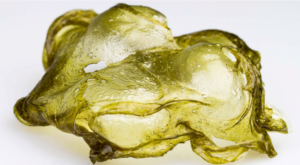 Photo: Algae based material, Gerda Nurk

Algae based material being developed
An upcoming trend in textile innovation is using algae and seaweeds. Algae grow rapidly, are economical to grow and are sustainable to use to create new materials. The project tested algae and their carrageenan, alginate and agar to obtain bioplastics and color pigments that can be used in the fashion industry. Innovative material is developed by Katariina Kruus and Ann Müürsepp.
Opportunity for accessing relevant resources
For the companies who are not ready to apply to the Growth Programme yet and want to learn more about circular fashion, the Fashion For Change virtual Knowledge Hub presents more than 150 learning and support resources. The resource search tool helps to find sustainable fashion training and educational programmes, accelerators and incubators, along with tools, best practice cases, eco-labels, events and conferences, reports and researches, products and much more. The learning section contains articles, reports and webinars.
Fashion For Change search tools and materials are publicly available. The project team is happy to offer additional support for sustainable fashion SMEs, designers and start-ups on demand. For more information regarding Fashion For Change support activities, Growth Programme and project events, sign up for regular updates here or send a message to info@fashionforchange.eu